THOMPSON NASHVILLE. Nashville, TN
Although I would describe myself as a planner, spontaneous trips are actually my favorite!
Backstory: My husband and I were visiting friends in Atlanta for a week but we were invited by some of my LA friends to join them in Nashville for a retreat. Since we were only a 4-hour drive away, we decided to rent a car, told Tuna to hop in (obviously,) and we all headed north west to visit Nashville for the weekend! That was the beginning of a really good decision!
We ended up staying at Thompson Nashville, which was another really good decision! It was a GREAT decision, actually! In January, we stayed at their property in Chicago and fell in love with the interior design and the service, so we checked out Thompson Nashville and folks, it was just as wonderful as it's sister property. Plus it's super pet-friendly and they don't charge a pet fee to stay!
Upon entering the gorgeously designed lobby, I squeeze my husband's hand so tight, looked at him in the eyes very seriously and said "I LOOOVE this place, babe." Truly, it was love at first sight. Insert emoji face with heart eyes.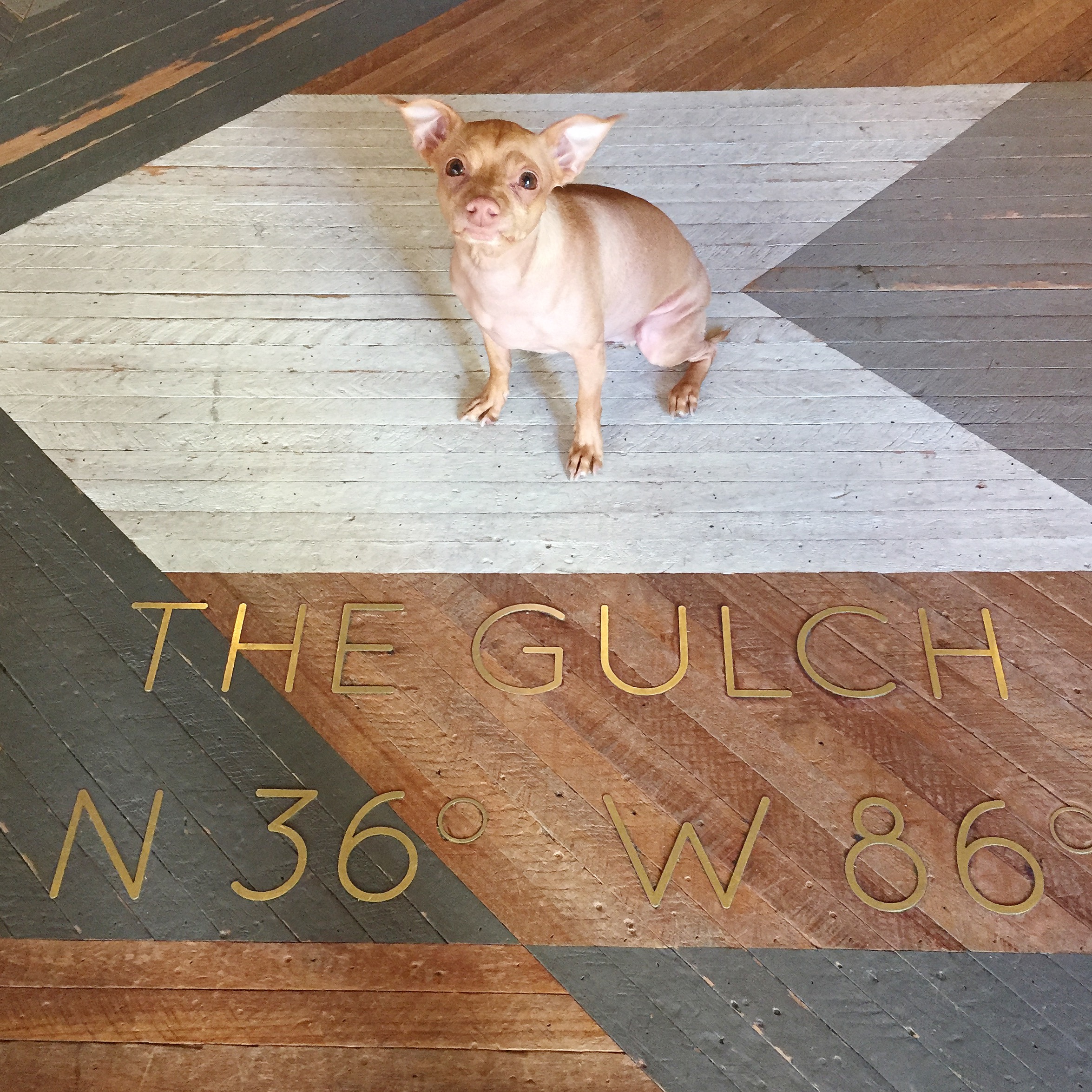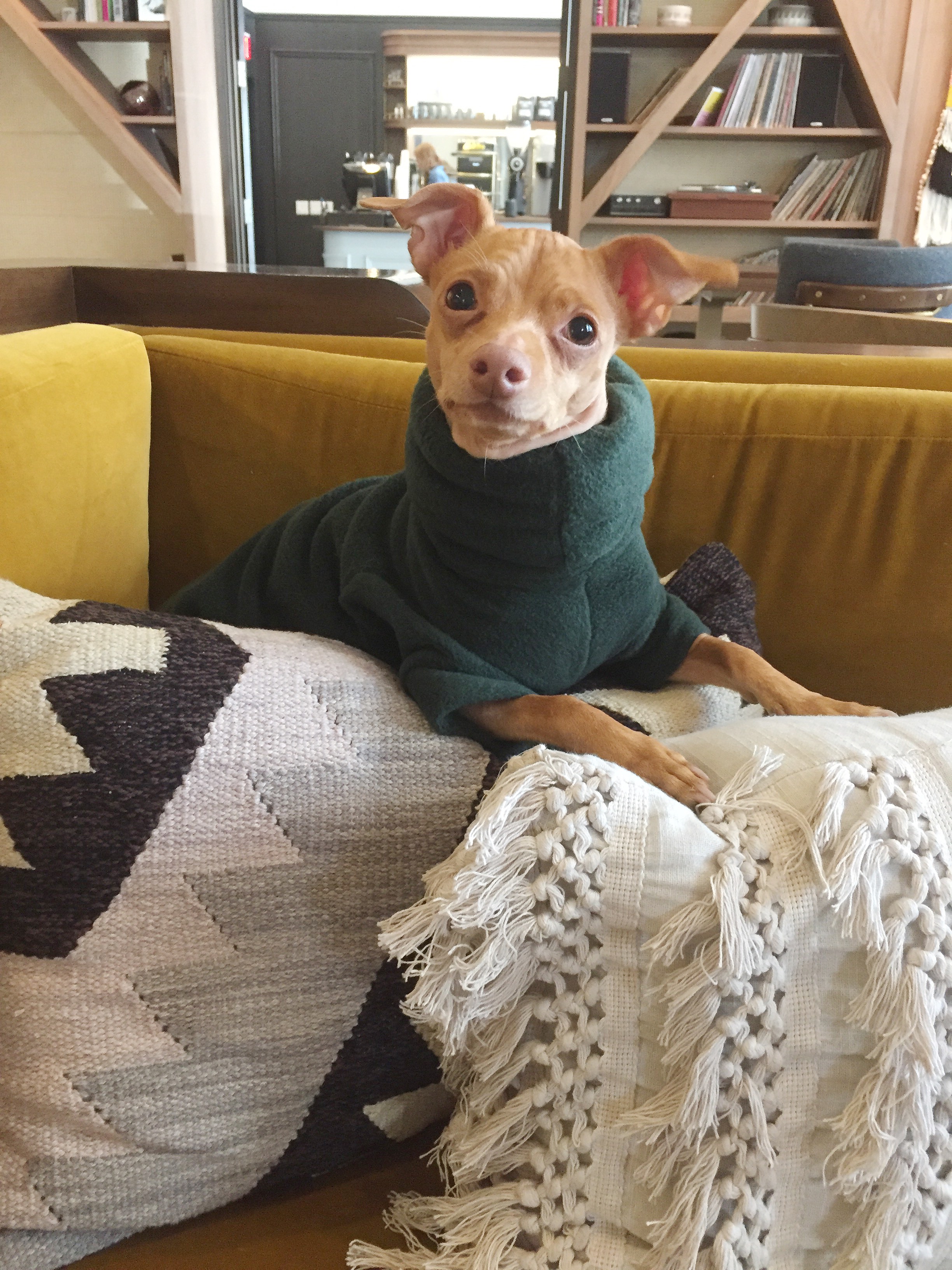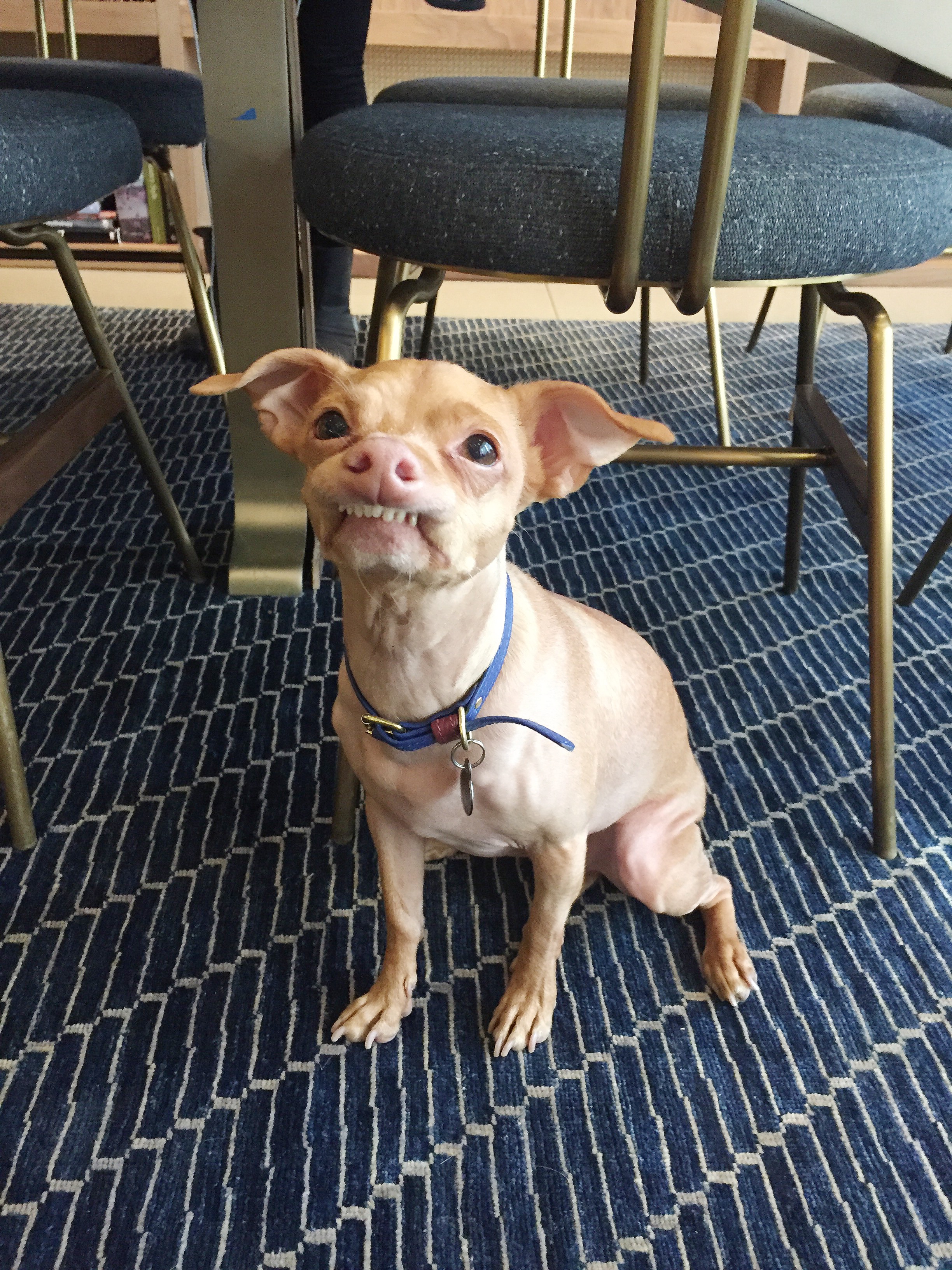 What first grabbed my attention was how sophisticatedly "cool" this place was designed. From the materials to the lighting to the furniture...as a designer myself, I could tell that every decision that was made for the selections was thoughtful because it was all magnificent! The color story in the lobby was warm and neutral, incorporated with mustard and rust tones with a subtle pop of hot pink. The textures were contrasting but complimentary, from reclaimed woods to concrete to metal to velvety and a macrame wall hanging (where the hot pink lived.) They all intermingled with each other so nicely. Just brilliant.
Next stop was our room, which is where I almost fainted when I walked in. The suite's design was only in my dreams, and it overlooked all of Nashville with it's floor to ceiling windows that covered 2 of the 4 walls...also dreamy. The eclectic furniture was a nod to the downstairs pieces but with a different color palette of deep blues, shades of grey, and a pop of red and orange in the art. There was a gorgeous marbled foyer, a perfect sized dining and seating area, a modern kitchenette, a cozy bedroom and a rustic bathroom with bold, aztec floor tile and a massive shower and a quaint claw-foot tub.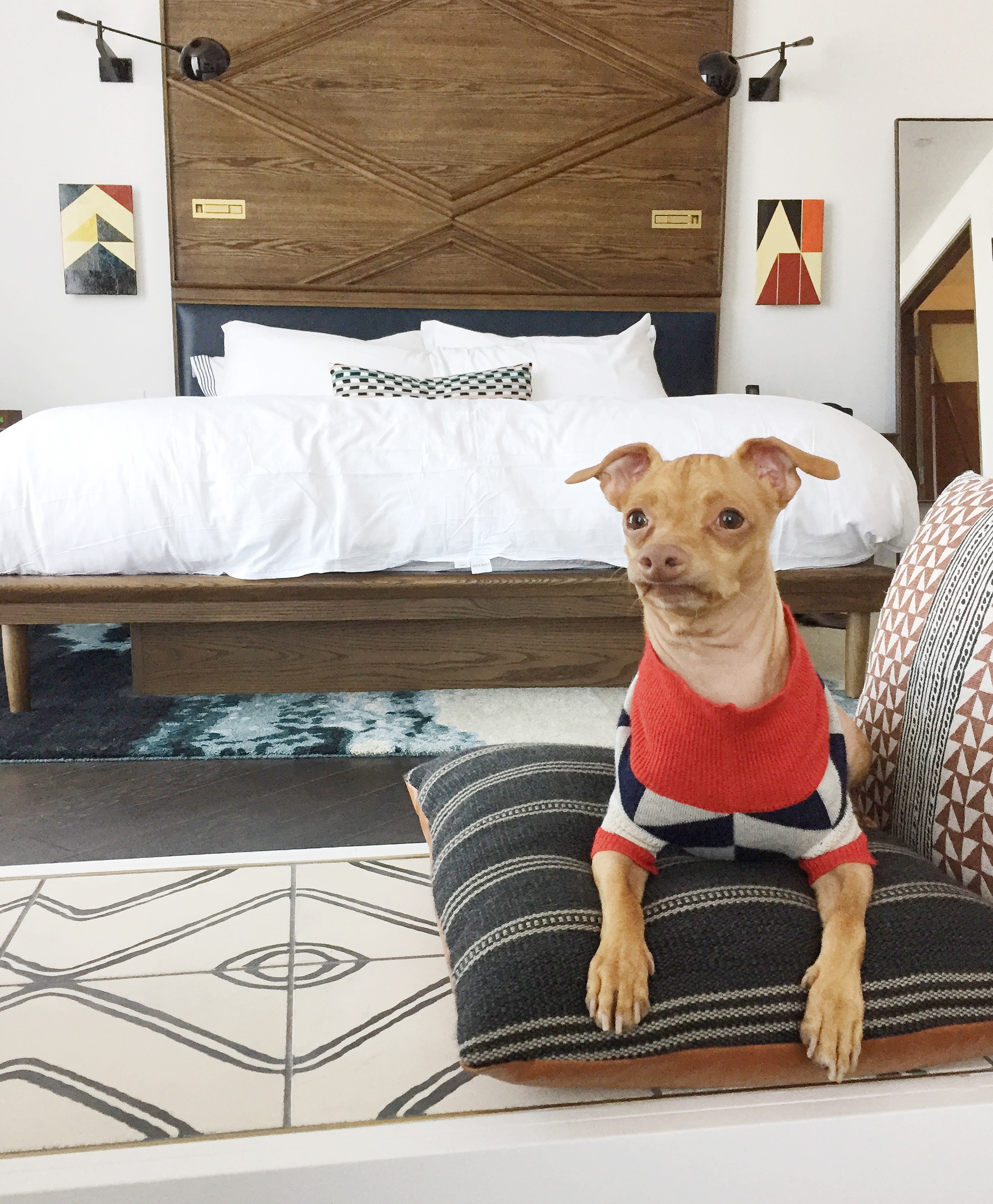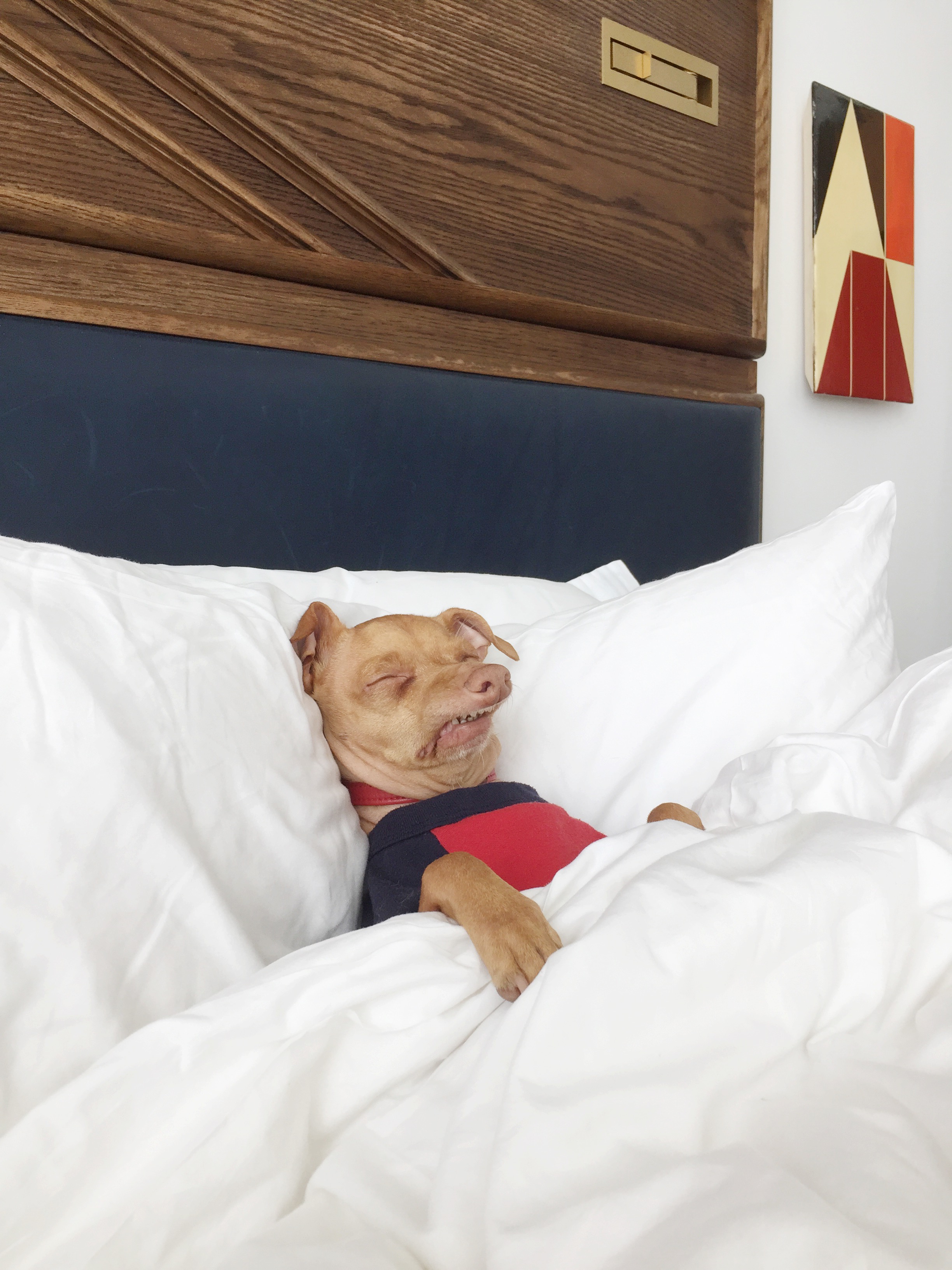 The room was just too magnificent not to share with friends, so we invited 6 of them over for some wine. Afterward, we went up to the rooftop restaurant, L.A. Jackson, where we caught up over truffle fries and craft beer. Then we went back to our room, alone, where I took a bath in the gorgeous, black claw foot tub, while my husband took Tuna to the other bathroom...outside :) Then we all went to bed.
The next morning, we went downstairs for lunch at the delicious and impeccibly designed, Marsh House and dined on the pet-friendly patio, and after lunch, we loaded everything in the car, including Tuna (obviously,) and headed back to Atlanta.
Overall, our stay in Nashville was beyond delightful, and we can't wait to come back to the city for another visit and stay at the amazingly pet-friendly Thompson Nashville again. #tunapproved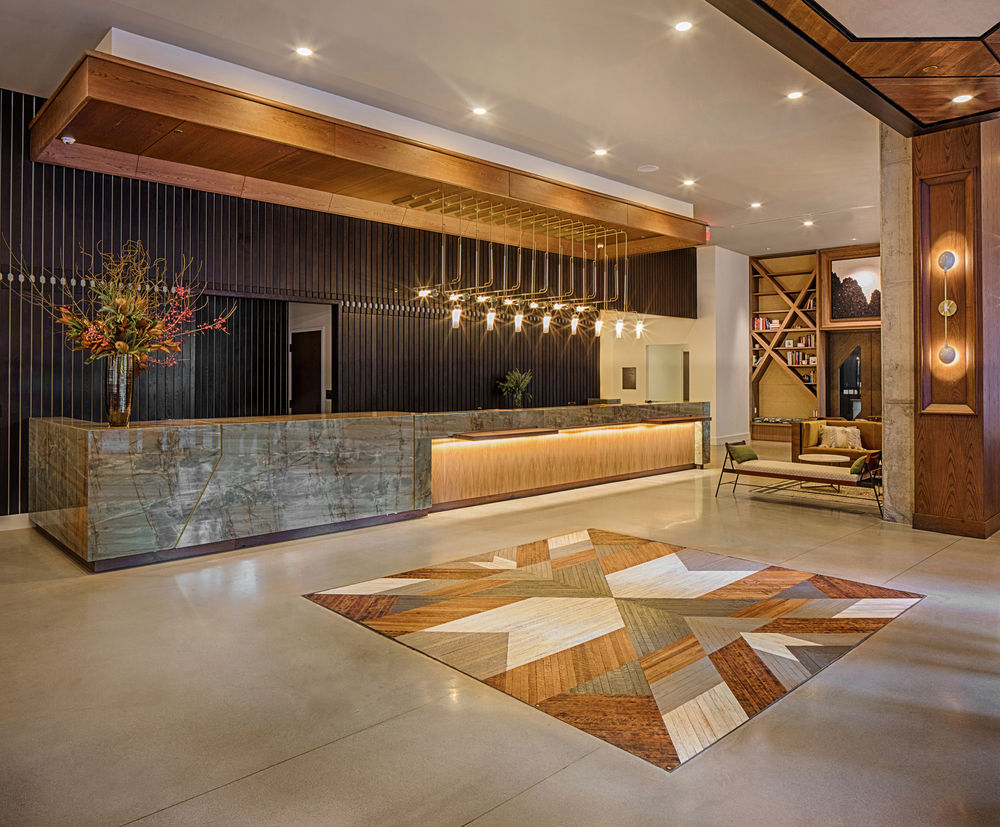 images by: Hotel Lobby, travelosity.com, Guest Bathroom, cntraveler.com, Marsh House Resturant, thompsonhotels.com