THOMPSON CHICAGO. Chicago, IL
One of my favorite cities in the world is Chicago! I have been visiting since I was a teenager and I have always wanted to live there. Now that I am married, my husband and I are considering Chicago, but before we commit to move there, we wanted to get a taste for what the city would be like for almost hairless Tuna in the winter. So, as a family we all bundled up and we took a road-trip there this past January to get a feel for just how cold Chicago really is.
Well folks, the rumors are true! It's pretty nippy outside, so to keep warm, we stayed at the elegantly eclectic Thompson Chicago hotel located in downtown in the Gold Coast, one block west of The Magnificent Mile, and just a short distance away from Lake Michigan.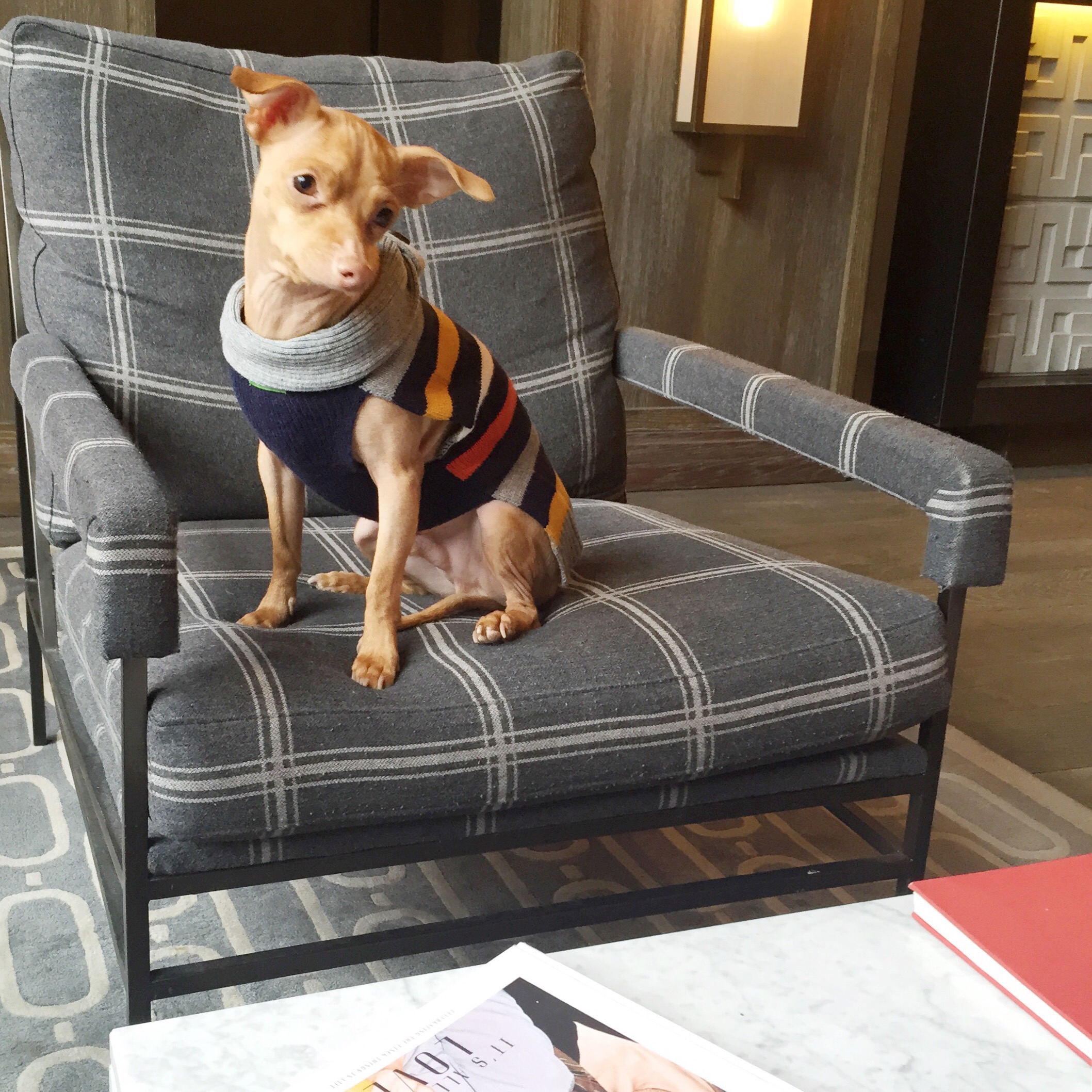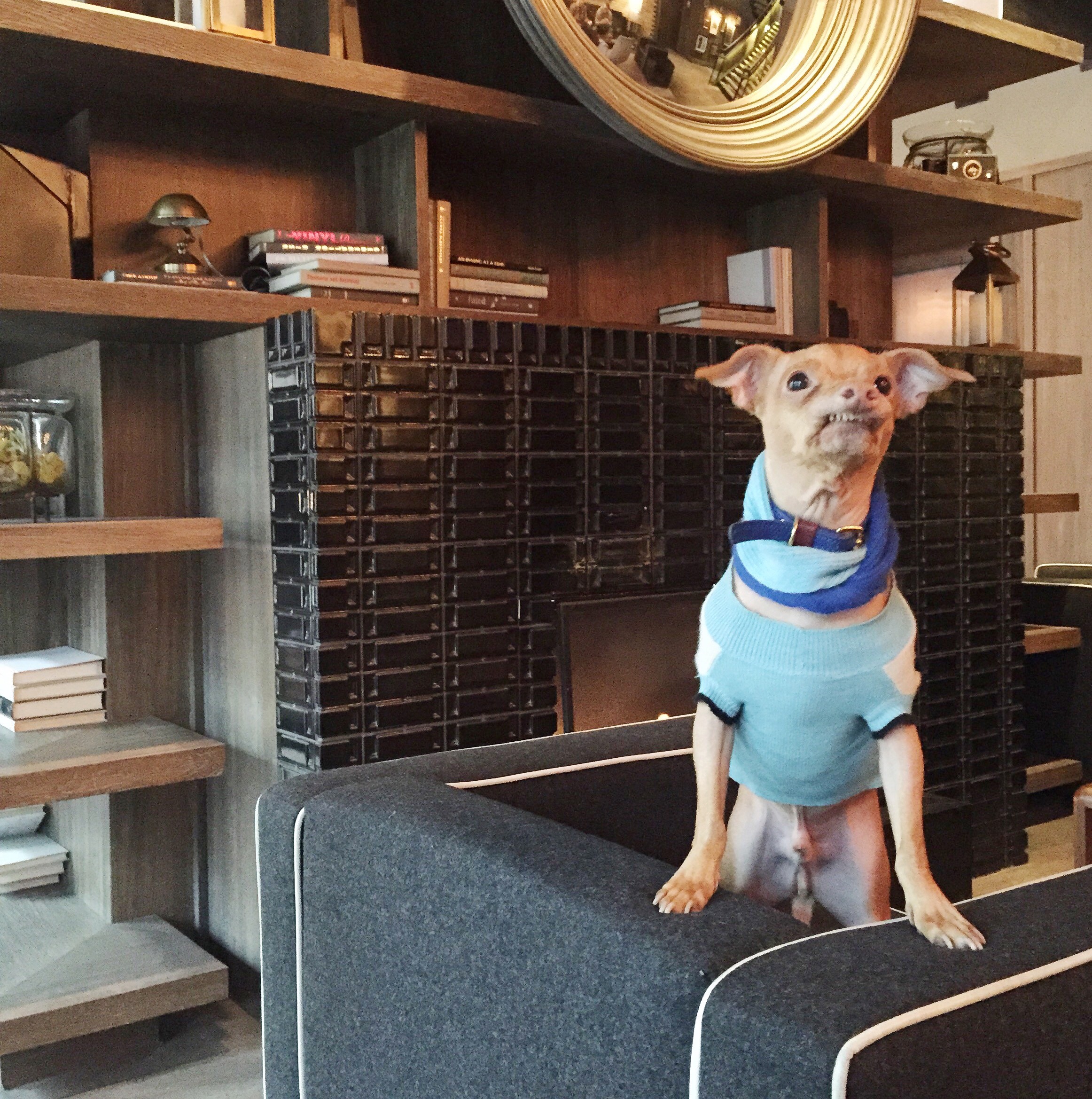 The moment we walked into the luxurious modern lobby, I forgot all about the cold weather. There was a toasty fire burning in the black-brick lacquered fireplace, and the furniture was adorned in plush textures like velvets and wool. Throughout the gorgeous hotel boasted warm-toned brick and deep walnut woods, with a stunning staircase in the center of it all. The space is a very sophisticated, yet approachable atmosphere that took my breath away, and still does even thinking about it today.
When we checked into our room, I had the same sentiments. It was beautiful and cozy! The vintage-modern design was very thoughtful with it's rich color palette and warm tones. The furniture was eclectic, like the pieces in the lobby, and the walls were adorned with unique art. My favorite features however were the gorgeous, tufted aqua-blue velvet banquette in the room, and the minimal designed bathroom with a massive full-length shower.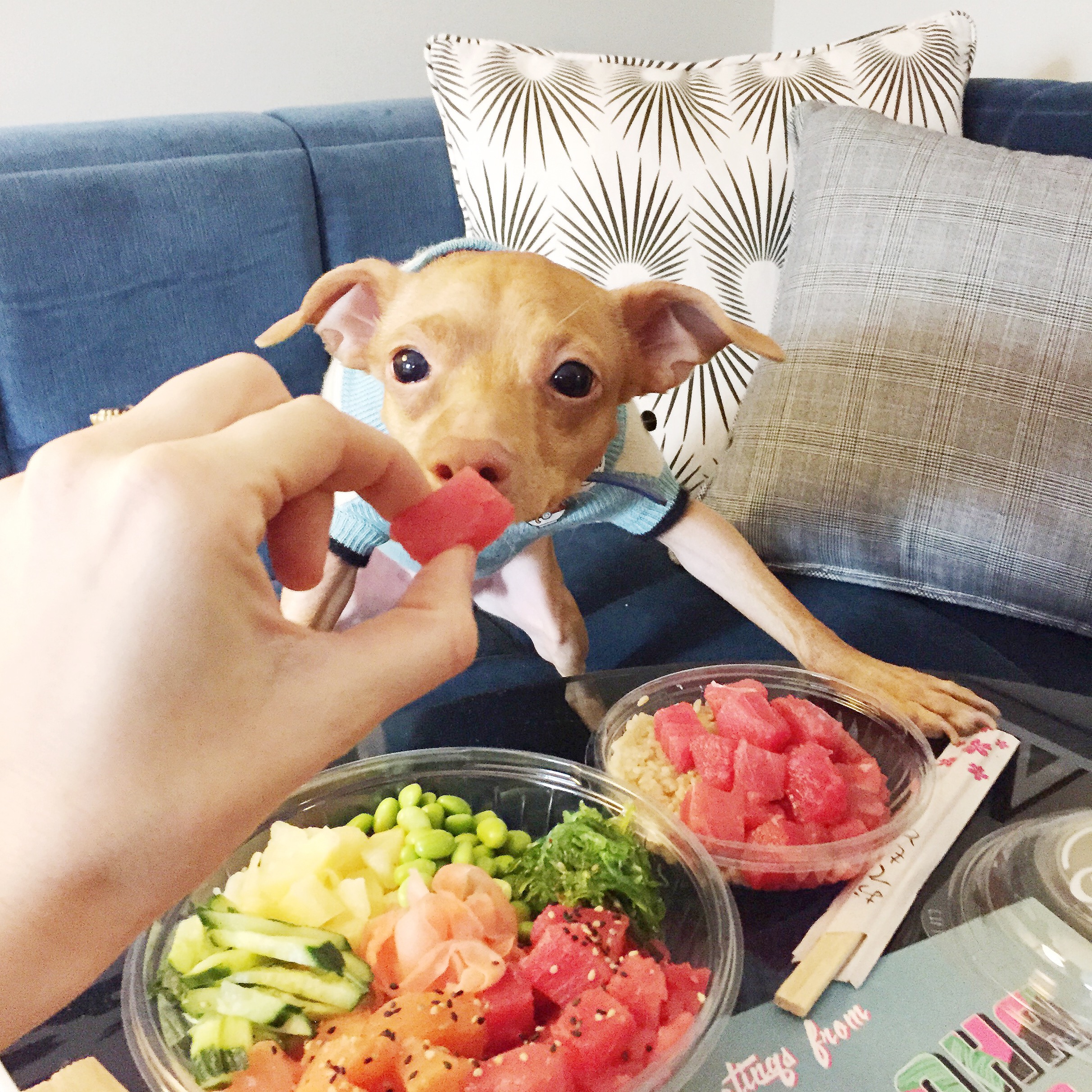 Since the weather was blustery, we decided to order in food both days, which was a great choice! On the first day, we had an amazing lunch of Salmon and Tuna (not Tuna, Tuna) bowls delivered from Aloha Poke Co., and the following morning, since we were so comfortable in bed, we ordered a delicious in-room breakfast from Nico Osteria, the hotel's restaurant. Both meals exceeded our expectations!
After our visit, we are still unsure if we are going to make the move to the city, but if we do and if we had it our way, we would move into the Thompson Chicago! It's superiorly designed and ultra pet-friendly, which we love! #tunapproved
images by: Hotel Lobby, hotel-r.net, Guest Room, booking.com, Nico Osteria Restaurant, tarabernerd.com